Mold can grow in an attic because of poor insulation?
In short, yes!
Trying to figure out how attic mold develops is not rocket science. The truth is, most people don't think twice about their attic. Lets look at this Addison, IL attic mold issue as a case study.
Understand how mold grows in an attic.
The key to understanding how having insufficient insulation in your attic causes attic mold begins with understanding how mold grows. Mold growth is pretty simple, 3 things need to be present.
1) Mold spores – Mold is ever present both indoors and outdoors. It is in the air we breath.
2) A food source – Homes are built with organic materials such as lumber that are naturally susceptible to mold growth.
3) A moisture source – Moisture is the only variable that we can control!
So, how does moisture develop in an attic? Generally, warm air gets trapped in the attic space. When warm air comes in contact with the cold roofing members condensation naturally occurs. Over an extended period of time condensation will cause mold growth to develop. In the picture below of this attic mold problem in Addison, IL you can see that there is simply not enough insulation.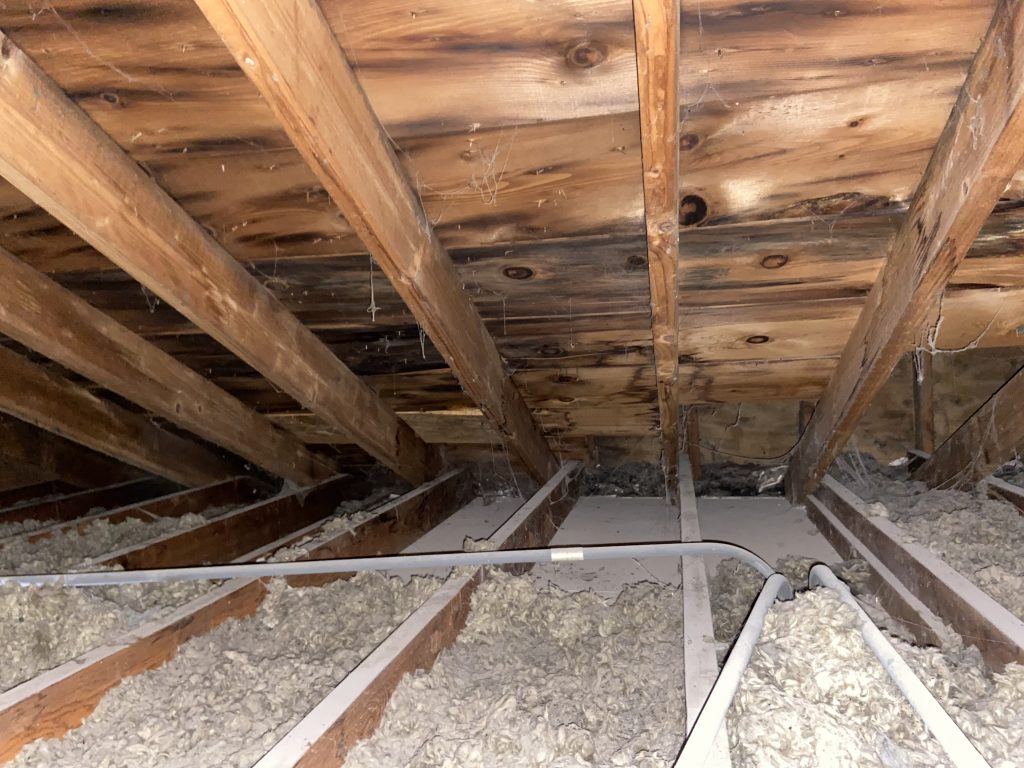 How does poor insulation contribute?
The answer is quite simple. Poor insulation allows for too much of the house heat to infiltrate the attic space. This means that a portion of the natural gas bill that you pay every month is actually funding unnecessary and unwanted warm air in your attic!! The best way to not only avoid a high heating bill in the winter, but also an attic mold issue is to have a properly insulated attic space! We always recommend hiring a professional insulation firm that can properly install attic insulation.
If you need help with an attic mold issue feel free to contact us for free estimate! We look forward to helping you!