Mold Inspection Services
We are certified mold inspectors. Our teams are highly trained professionals, skilled at assessing mold colonies and identifying the root cause of mold growth.
We utilized a detailed inspection process
At Guardian mold, we start by interviewing property occupants for experiential details regarding mold issues.   A solid history of the progression of mold is most telltale as to its origins and is also often helpful in determining the type of mold as well.
Mold can be extremely covert, hidden from sight and hard to find.  We know that moisture is the key element to mold survival and much like a detective chasing down a suspect, we look for clues about mold from the most common sources within the property including sump pump closets, basements, attics, in an around plumbing fixtures, sinks, garages, and outdoors as needed.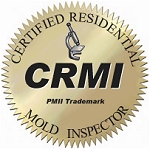 You can trust that our certified mold inspection services will be the most comprehensive inspection available, covering all possible water intrusion points and/or ventilation issues that may exist. All "Red Flag Areas" will be thoroughly inspected for visible microbial growth.  Once completed, we provide the owner with a detailed in a written report, complete with all  remediation options and long term prevention recommendations.
Selling your property?  Need urgent service?  We can help!  Call us today and let us know! 
We serve homes and businesses near Glen Ellyn, Wheaton and Oak Brook, and all other suburbs.