LABORARTORY MOLD TESTING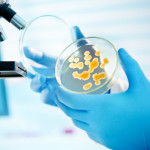 On occasion, it is necessary to obtain mold specimens for lab testing to identify the specific species of mold.  Mold species are very difficult to identify precisely with the naked eye.
In situations where there is visible mold and the indoor air quality may have been compromised, mold testing may be prudent.
INDEPENDANT SCIENTIFIC LABORATORY
Mold testing is carried out by an independent laboratory to avoid any conflict of interest and to insure accurate results.
There are some varieties of mold that contain toxic compounds (mycotoxins). However, exposure to hazardous levels of mycotoxin via inhalation is not possible in most cases, as toxins are produced by the fungal body and are not at significant levels in the released spores.
The primary hazard of mold growth, as it relates to indoor air quality, comes from the allergenic properties of the spore cell wall. More serious than most allergenic properties is the ability of mold to trigger episodes in persons that already have asthma, a serious respiratory disease.
 MOLD TEST TURNAROUND TIME
The turn around time for comprehensive lab test results range from 3 to 7 days depending upon the type and number of tests required.