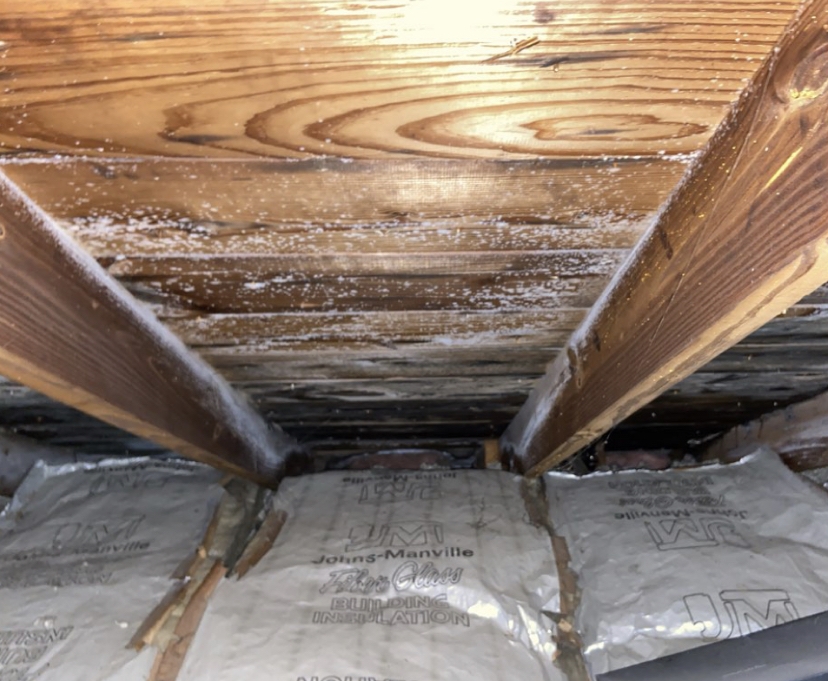 One of The Many Causes of Attic Mold
A humidifier on a furnace can certainly cause attic mold. As we often do, Guardian Mold Prevent received a call from a homeowner in Naperville, IL this week, concerned about attic mold growth. While putting some storage items up in their attic space they noticed what looked like white dots all over their attic plywood. This had them very concerned.
Per usual, Guardian performed an onsite visit. During our inspections we normally check the humidifier settings, especially if the attic shows signs of excessive moisture. Excessive moisture related to humidifiers can quickly cause mold to grow!
What should you do if your furnace humidifier has caused excessive moisture in the attic?
Immediately turn down the dial or setting for the humidifier.
Find the copper water line that runs into the humidifier. Follow the line back to the water shut off. Turn the water valve until the water supply to the humidifier has been cut off.
To begin immediately working towards drying the attic out, place a box fan or oscillating fan inside of the attic pointed at the dampest section of the roof decking.
Call a professional that understands both roof ventilation and insulation. Many times opening up the eaves of the home and installing a power attic fan with a humidistat can rapidly dry the attic out.
If you suspect a mold issue has developed as a result of the excessive moisture in the attic, do not hesitate to contact a professional. We can evaluate the damage and provide a plan to remediate the problem. You can reach Guardian Mold Prevent at 866.681.6653 for a free onsite evaluation and estimate. We will provide you with an easy to understand plan to completely remediate your attic mold problem!